Alanya Night Life
Tulosta tämä sivu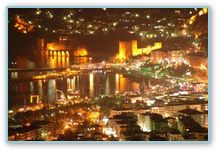 Nights in Alanya are for partying and having fun until the early hours of morning. Everything from large international discotheques to smaller bars can be found in Alanya and also less eye-catching places where the local crowd is found. Because of its size and intensity there is something for everyone in Alanya - so whatever you like, rock, pop, disco, techno, salsa or Turkish music, there is a place for you here. Almost all nightlife in Alanya is concentrated around the harbour area with the large discotheques facing the water and the smaller bars behind. During high season even Sundays and Mondays are considered party nights. For a tourist a good night out in Alanya starts with a visit to one of the many restaurants in the bazaar area of Alanya and then continues at a bar from around 11pm.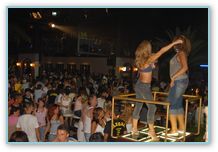 The parties at the discotheques in Alanya are best after midnight and continue until closing time. At 3am music at the harbour inAlanya has to stop but it is possible to continue even later at the discotheques away from the centre of Alanya. The choice of drinks is as large as at home and maybe even better in Alanya, certainly Alanya is cheaper than Spain and other European holiday destinations.
As a general rule imported beverages in Alanya are more expensive than local ones, especially when it comes to alcohol where the difference in price can be more apparent. Taste does of course vary from person to person but often the cheap local stuff tastes just as good as the more expensive imported brands.
James Dean Night Club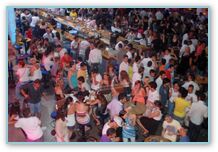 In Alanya a night out is not complete unless you have been to James Dean Night Club - here the choices are so numerous that you will definitely find something to suit every taste. Major renovation recently means the disco is now ready for all party people with its 10 bars and 4 different dance floors and at least two kinds of music on the different floors. The James Dean disco is arranged in small sections with their own character and you will also find plenty of opportunities to either dance or sit down and relax in comfortable sofas and seating areas. The music is controlled by experienced DJs from Alanya, Istanbul and Germany and the style is a mix of pop, r´n b, dance and lounge. If you enjoy discos with a good international atmosphere then James Dean in Alanya is THE place for you to be. Opening Hours: 20.00 - 04.00
Bistro Bellman Night Club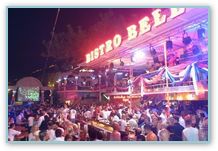 If you go to Alanya, you have to go to the Robin Hood and Bistro Bellman, cause there's a lot of good music for everybody, great atmosphere and nice crew for every request.
Although Bistro Bellman made its name as part of Alanya's nightlife it is much more than just a disco. Before dark Bistro Bellman is open for dinner guests who get an amazing view to the harbour, Alanya castle and the Red Tower whilst choosing from a varied menu with Turkish, European and Latin dishes. Later the bar opens and the music changes from quiet to more lively and modern. Around midnight both style and mood change when the dance floor is full and young party people take over Bistro Bellman to have a good time. Bistro Bellman is Alanya's largest open-air restaurant/disco and on the two floors there are different dance floors, five bars and several terraces with soft sofas. Once you have stepped into Bistro Bellman you don't have to go anywhere else -with its superb food, good atmosphere in the bar and partying till the morning comes. For restaurant customers a pick up service is offered.
Havana Night Club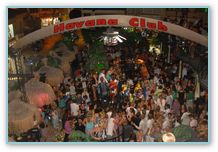 Visit the Havana Club in the lively harbour area. This dance bar opened in April 2005 and is ready to entertain you with a mix of music styles. Starting with the music of the 60's, 70's and 80's through to pop, R&B, Hip Hop, Latin and finishing with House and Techno. So there is something for everyone no matter your age!

Set on 3 floors, with views over the Castle and Red Tower, the harbour and the coast, this wonderful bar has a Cuban cigar theme. Fantastic pictures of famous cigar smoking personalities adorn the walls and you can buy cigars from the wide selection on offer.

In keeping with the Cuban theme, try one of the Havana Club special cocktails which include delicious fresh fruit! Come on one of the special theme nights for even more fun. There is also a big screen for displaying international music channels or special sporting events.
Opening Hours: 20.00 - 04.00 all year
Capacity: 2000 (on 3 floors)
4 bars , 2 dance floor ,Vip , Two Big Screen
Theme & Music type: oldies to techno
Crazy Horse Restaurant Bar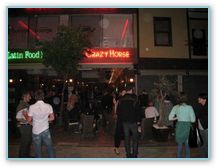 Since the opening in 2001, Crazy Horse has become a big success. Delicious food, professional staff and good music in a perfect combination have made it meeting point number 1 for all tour guides as well as many many tourists.
Crazy Horse is the perfect place to start the evening and warm up before continuing to the night clubs. Try some of our latin foods and move on to the bar for a drink while enjoying the music played by our DJ. Which ever is your taste he will play them all, from old goodies to the latest hits.
Crazy Horse is the place you will visit more than once during your stay in Alanya!
Robin Hood Latino Bar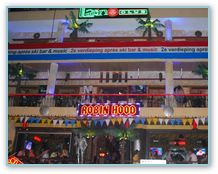 Robin Hood, on four floors in the busy harbour area, is the largest disco in Alanya. Robin Hood Club is on the first two floors with Hawaii Beach Club on the third and Latino Club on the top. Each Club has its own theme and music style and a live web cam.

Every night is Party Night on one of the floors so there are plenty opportunities to join in the fun and dance till the early morning light! With 6 DJ's providing the music from r'n'b and pop to hip hop and golden oldies, you are sure to find a style that suits you.

Robin Hood provides an excellent vantage point for enjoying the wonderful sea and mountain views on offer or just sit in the garden and watch the bustle of the harbour crowds. Happy hour is 21.30 to 23.30
Auditorium Disco

With an capacity of 4.000 people it is the bigest and most beautiful disco in Alanya; doing great benefits in Europe with its nightlife it is one of the ''musts'' of the city. It has always been a great question mark when it is going to be opened and closed.
In Alanya, people say ''summer has not come before Auditorium has opened'' and the closing of Auditorium means that the season is over. Like having all the galas and the best audiences within, Auditorium always has the last word to say. For short, the local people call it ''THE KING OF THE NIGHT'' The music genre and style changes from day to day and time to time.
Sky Lounge Bar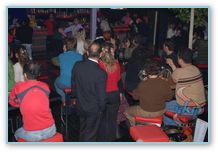 This is the first loungebar in Alanya! Something new, something different, something that you will love!
Gaze out over Alanya and its harbor from one of our comfortable sofas directly under the stars.
In the good care of our staff will you be able to try some of our tasty drinks from the menu.
Early hours we are playing soft chill out music and later on we'll get the party started with a mix of Club and House music.
Come and visit us on the 6th floor of the Red Tower Brewery & Restaurant.
Feel it, taste it & enjoy it!
Alanya's night life is the best along the south coast of Turkey. Alanya has a wonderful choice of places to eat and food to choose. You can choose from its famed fish restaurants or simple traditional Turkish restaurants. Guests can dine in one of the elegant restaurants overlooking the marina or in the busy and bustling Restaurant Alley, a vine shaded lantern lit street with outdoor restaurants, one spilling on to the next, authentic live music and impromptu displays of Turkish dancing. The choice of bars is extensive, some loud and blaring, others refined and chic, there is something to suit all age groups. Visit the famous nightclubs and Discotheques, set right on the sea's edge overlooking the sea and the castle.
There is the "Harbour Mile" with it's pub's, nightclubs and restaurants. There is always live music. There are taxi's which will take you back to the Villas
There are several "Theme Bars" and there are quiet, back streets with outdoor seating for a romantic dinner.
Generally the harbour area is the most expensive place to eat and generally twice the price of place 200 yds further away. There is always freshly caught fish available in the harbour restaurants...