Alanya Dining
Skriv ut denne siden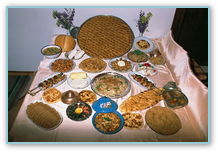 What would you like to eat in Alanya? Let us remind you: it's not possible to find such a variety of choices from all favourite kitchens of the world even in the best holiday resorts. Turkish, Italian, French, Chinese, Japanees and Russian restaurants are in your service for day and night in Alanya. We recommend you taste Turkish food - exotic types of "şiş kebab" prepared by chief cooks and traditional Alanya foods firstly. If you prefer to eat fast food during the day, you may choose one of the international fast food meals or try traditional Turkish menus such as "gözleme", "döner sandwich" or "lahmacun". Of course fish is also an alternative choice. The fish, caught from the deep blue seas of the Mediterranean, are in the freezers for you. You should have a look. You may also start with a slice of white cheese and melon and "Rakı". Keep in mind that Rakı is drunk slowly, adding some water. If you prefer live music with your meal, you'll already feel the rhythm in your soul. By the way, have you ever thought of dancing with a "dansöz" (belly dancer) during your meal? If you claim that you are tired, you should wait for the dessert . Specially "baclava" and banana with honey will give you energy more than you need. In which ever restaurant you are, we advise you to drink a Turkish coffee at the end of the meal. Anybody will show you the restaurants , where you can find wild boar meat in their menus. The aroma of wild boar of the Taurus is of another taste.
Bistro Floyd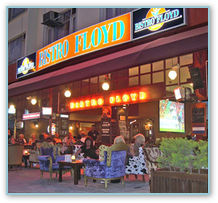 Alanya Bistro Floyd is a Restaurant & Bar located on the Ataturk street. It is a cosy place where you can eat , drink,watch football , play pool,dart or table games.They are serving foods from diffirent cuisines but their concept is Dutch Concept.It is also open during the winter time and they have a fire place that you can sit next to it with your friends to have fun.
Queens Garden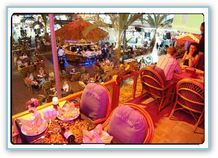 Alanya Queens Garden Restaurant is open during the summer season.The place is closed in winter time.They are serving delicious foods from diffirent cusines. At nights they have entertainments and shows for their customers and the place is especially popular for Scandinavian people. We strongly recommend this place to Alanya lovers.
Kervansaray Restaurant Ocakbası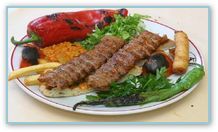 Alanya Kervansaray Restaurant is located on the main street called Ataturk.It is the most popular Turkish Traditional Food resturant during the all year. They are serving delicious starters , breads , meats , soups and fruits.We say it is the best place to have dinner for meat lovers.
Mahperi Restaurant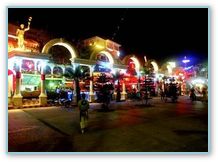 Because of being at the harbour, it provides you enjoyable times with your family and your friends and also,it gives you a chance of eating your meal by watching the incredible sea view.

The health, taste and quality come together in Marina Restaurant with the wide variety of the daily fresh fish and meat and the qualified service.